Pumpkin Spice Candied Bacon
Pumpkin Spice Candied Bacon is a sweet, salty, and spicy treat that's easy to make, has only a few ingredients, and is the perfect party appetizer. Anyone can make this simple and addicting treat! Use it for topping on waffles or french toast, or eat it on it's own!
Bacon, in all of its forms, is one of the best treats. And candied bacon is the ultimate sweet & salty treat – when you add pumpkin spices to the mix, with just a touch of freshly cracked black pepper, you create a perfect blend of flavors that will satisfy everyone.
Despite the name, this bacon does not have a strong Pumpkin Spice flavor – it has no pumpkin at all, and only has a small amount of spice to get just a little kick.
If you want something actually Pumpkin Spice, try my Pumpkin Mousse!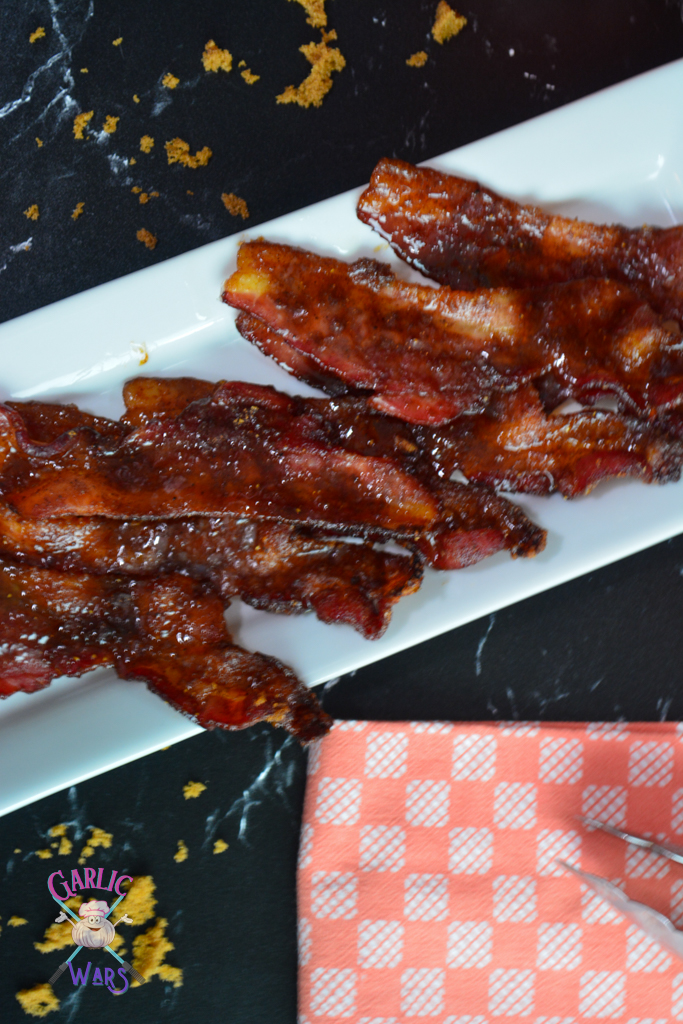 What do I need to get started?
Thick cut bacon.
Brown Sugar.
Pumpkin Spice. You can either make your own mix using cinnamon, nutmeg, ginger, cloves, and allspice, or you can buy it prepackaged.
Freshly cracked black pepper.
How to make Pumpkin Spice Candied Bacon
Candied bacon is such a great treat cause it's both tasty and super easy to make!
Lay your bacon in a single layer on a baking sheet with foil. Mix the brown sugar and pumpkin pie spices, then rub it over the bacon. Top with some freshly cracked black pepper.
Bake the pumpkin spice bacon for about 20 minutes, or until the bacon is cooked through. It should have crispy outer edges and be caramelized!
What to do with Candied Bacon
You can, of course, eat this on its own! You can top savory dishes with candied bacon to make for a sugar and spice flavor!
Pair Pumpkin Spice Candied Bacon with waffles and maple syrup for a great breakfast!
Mix into a cookie or cupcake recipe with a maple glaze for a Maple Bacon treat.
Crumble it on top of your favorite salad.
Pumpkin Spice Candied Bacon
Yield:
12 strips candied bacon
A sweet and savory candied bacon, with crisp outer egdes!
Ingredients
12 strips bacon (your preference)
1/4 cup brown sugar
1 tbsp pumpkin spice
Freshly cracked black pepper, to taste
Instructions
Preheat oven to 375.
Arrange strips of bacon on a wire rack. Place rack on a baking sheet lined with aluminum foil.
Mix brown sugar and pumpkin spice together. Rub bacon with sugar mixture until there is a thin layer of sugar over the bacon.
Bake for 20-25 minutes, or until the edges are crispy. Lightly season with black pepper when bacon is out of the oven.
Let sit for at least 10 minutes before removing from the wire rack.