Air Fryer Chicken Wings with Homemade Buffalo Sauce
These Air Fryer Chicken Wings are made easy in your air fryer, and so super crispy you will think they were deep-fried! With a homemade buffalo sauce and a side of celery sticks and blue cheese, these Air Fryer Buffalo Wings are an easy classic treat done in less than 30 minutes.
Making homemade chicken wings can be a bit of a struggle – deep-frying is such a fuss, baking them is never ask crispy or satisfying, and store bought sauces are never as good as homemade.
These Air Fryer Chicken Wings are just as good as any wings I've ever bought at a pizza shop. They have a perfectly crisped outside with a tender and juicy inside, and the homemade buffalo sauce is packed with flavor. Both me and my husband couldn't taste any difference between these and deep fried wings!
For another game day snack made in the air fryer, try my Pretzel Crusted Chicken Sandwich!
What do I need to make Chicken Wings in the Air Fryer?
An air fryer. The duo crisp is my favorite, cause you can an instant pot with it 🙂
Chicken wings. This recipe is for 2 pounds of wings.
Olive oil or cooking spray, for the air fryer basket.
Salt and pepper.
How do I make my air fryer wings extra crispy?
There are a few ways to ensure your air fried wings are just as crispy as pizza shop wings!
After removing the raw wings from the package, use a paper towel to pat them completely dry. Any extra moisture will make them less crispy.

Extra cook time. I air fry my wings for 12 minutes on each side, then I flip one more time and air fry for an additional six minutes. This will get them crispy and a beautiful golden brown color.

Cook at a high temperature. I air fry at 365 degrees for the first 25 minutes, then raise the temperature to 390 degrees for extra crisp.
Make the wings one layer at a time. This will mean making them in a few batches, but it will also mean that the wings won't be overcrowded. The wings needs room to breathe so they can cook properly.
Homemade Buffalo Sauce
I love making homemade sauces for everything – the homemade touch just can't be replicated from a jarred sauce.
Wing sauce can be daunting (especially in Upstate NY, where I live) because everyone has strong opinions on it. You can cover these wings in any sauce of your choosing – but I recommend this buffalo sauce.
Hot sauce. I usually use Frank's, but any hot sauce is okay.
Salted butter.
Brown Sugar.
Minced garlic. I wouldn't try to replace this with garlic powder – you want actual minced garlic for this.
Blue cheese crumbles.
Grated Parmesan.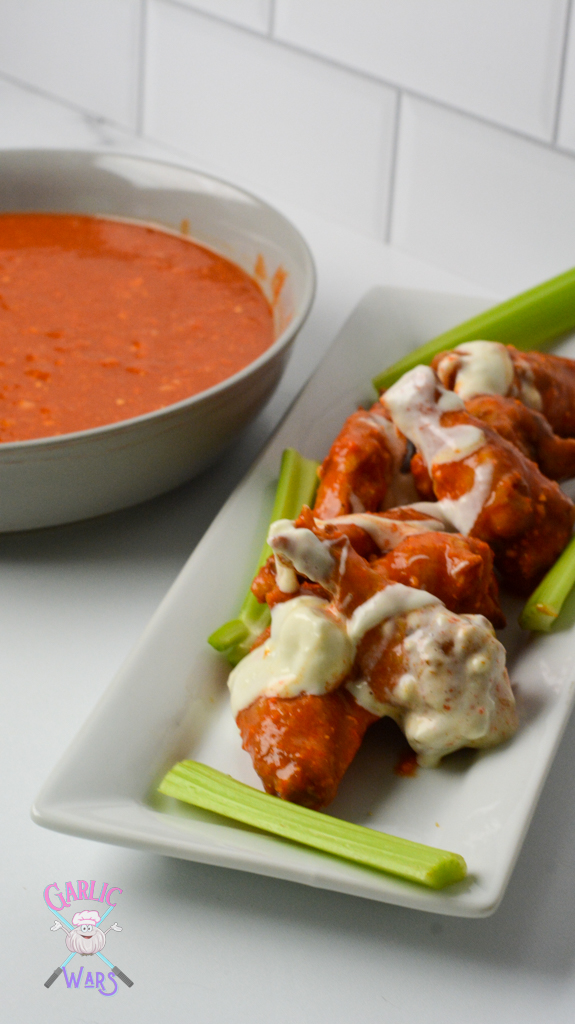 Mix the hot sauce and butter, then add the sugar and dissolve over medium heat on the stove. Once sugar is dissolved, add all the other ingredients. Transfer to a large bowl and toss your crispy wings in your delicious homemade buffalo sauce!
Air Fryer Chicken Wings with Homemade Buffalo Sauce
Yield:
About 20 chicken wings
Crispy chicken wings made in the air fryer with a homemade buffalo sauce!
Ingredients
Chicken Wings
2 lbs chicken wings
Olive oil, for air fryer basket
Salt and pepper, for seasoning
Homemade Buffalo Sauce
1 cup hot sauce
3/4 cup melted butter
1/4 cup brown sugar
2 tsp minced garlic
6 tbsp grated parmesan cheese
1/2 cup blue cheese crumbles
Celery sticks, for the side
Blue cheese sauce, for dipping
Instructions
Buffalo Sauce: Mix together the hot sauce and melted butter. Transfer to a sauce pan over medium heat and add the brown sugar. Whisk until sugar is completely dissolved, then add the garlic, parmesan cheese, and blue cheese crumbles. Keep whisking until cheese is melted and sauce is thick and smooth. Set aside.
Preheat air fryer to 365 degrees.
Take chicken wings out of the package and pat dry with a paper towel. Season with salt and pepper.
Once air fryer is preheated, generously spray with nonstick spray. Place chicken wings in basket in one layer. Be sure not to overcrowd the air fryer basket.
Air fryer for 12 minutes, then flip the chicken wings with tongs. Cook for another 12 minutes.
Once wings are cooked on both sides, turn the temperature up to 390, flip the wings again, and cook for an additional 6 minutes.
Remove wings from air fryer using tongs, and toss in homemade buffalo sauce.
Nutrition Information
Yield

3
Serving Size

6 wings
Amount Per Serving
Calories

1675
Total Fat

137g
Saturated Fat

63g
Trans Fat

3g
Unsaturated Fat

63g
Cholesterol

401mg
Sodium

2427mg
Carbohydrates

52g
Fiber

2g
Sugar

18g
Protein

62g